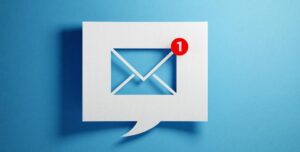 No one has control over the state of the economy. Today, due to the pandemic and its resultant impacts, the aggregate consumer demand is low. We are indeed in tough economic times.
However, this is not the time to focus less on marketing, but rather the opposite. In reality, reducing your marketing efforts in tough economic times is the last thing you should do. Instead, it is recommended that you change your approach by expanding your channels of marketing so as to increase reach without spending more.
Organizations that continue to grow and prosper during tough economic times understand the value of multi-channel marketing. In this write-up, we will look at one marketing channel that is very effective yet underrated – the Email.
From usage statistics, in the updated figures released last year by Radicati, the total number of active email users globally is 3.9 billion, which is more than half of the global population.
Just as a comparison, the total number of social media users globally is 3.5 billion. This number is equally impressive, but it's still fewer users than the number of email accounts.
Besides, reach and engagement statistics show that email drives more conversions than other marketing channels.
So rather than doing only the traditional marketing (which has now been limited by the pandemic), it's recommended that you expand your channels. Social media marketing and telemarketing are good additions but your organization might find that email is a channel that's worth a lot more of their time than they think.
Email marketing goes beyond using office email system to send marketing campaigns to prospective clients. Effective email marketing involves using an email marketing tool to create valuable personal touches at scale.
Considering its features and benefits, here are 5 reasons why email marketing is vital in tough economic times:
1. Low cost
One of the most obvious benefits of email marketing is its lower cost compared to mainstream marketing channels. There are no print or postage costs and no fees paid in exchange for exposure on a certain billboard, magazine, newspaper, or television channel. The email marketing tool is not free but the cost is far lower than the cost of using other marketing channels.
2. Easy to create
Email marketing doesn't necessarily require a huge team or reams of technical people in order to be successful. It's certainly possible to beautify an email campaign with fancy templates, videos, images and logos. Yet, some of the most successful campaigns utilize simple plain text emails, suggesting that it's the content of an email that is the most important thing.
3. Easy to track
Another key benefit of email marketing is that it's easy to see where you're going wrong. Most email marketing tools will allow you to measure performance, making it simple to spot how a campaign can be improved.
4. Great for delivering valuable content
In email, you have the luxury of space for communication. This made it great for delivering valuable content to your audience. There aren't many other marketing platforms which allow organizations to conveniently deliver rich content that helps their customers and prospects improve their business.
5. Easy to share
Email recipients can forward brilliant deals and offers to their friends at the click of a button. There aren't many other types of marketing that can be shared as easily as this. Before you know it, recipients could become brand evangelists; focused on introducing your business to a new market.
"A man who stops advertising to save money is like a man who stops a clock to save time."  — Henry Ford